The Town of Coopertown prides itself on community involvement. Our committees consist of citizen volunteers who are willing to give of their time and expertise to move Coopertown forward. We currently have 3 (three) open positions for our Board of Zoning Appeals and 1 (one) open position for our Planning Commission. We also need 4 or more members on our Community Development Committee. Please contact Mayor Guyor at 615-382-4470 or by email mayor@coopertowntn.org if you are a citizen interested in volunteering.
Have you seen the new water tower with our Town logo?
We finally have a traffic light at the intersection of Hwy 49, Hwy 257 and Flewellyn Road. THANK YOU to all who worked so long and hard to make this happen.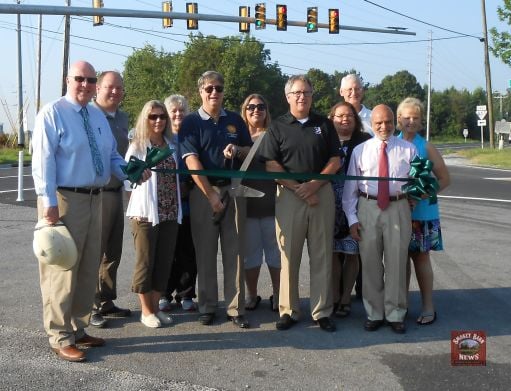 http://smokeybarn.com/20-years-in-the-making-49-market-intersection-project-complete/
The Town of Coopertown is an equal opportunity provider without regard to race, religion, national origin, political affiliation, sex, age or disability.
Coopertown is located 25 miles north of Nashville and 20 miles south of Clarksville on Interstate 24 in Robertson County, Tennessee. At nearly 25 square miles, Coopertown is a beautiful farm community that prides itself on family and community. The people of Coopertown understand the value of planned growth and the need for proper zoning to maintain its beautiful country charm. The Town of Coopertown now has a property tax. Services are provided by funds raised from local and state sales tax. Services include police protection, road maintenance, as well as building and codes enforcement. Fire service is provided by the Pleasant View Volunteer Fire Department.
---
For more details check out our Barrel Festival and Barrel Fest 5 Miler Race pages
under the Calendar tab above.  Mark your calendars for next year's Festival and 5 Miler...Saturday, June 2! 
Register for the Barrel Fest 5 Miler by going to RunSignUp.com
Like Us on Facebook
Town of Coopertown Facebook page
Coopertown Police Department page
Community Development Facebook page
Coopertown Barrel Fest 5 Miler Facebook page
We are still searching for the Frierson Chapel Church Directory 
If you have information regarding its location
please call City Hall at 615-382-4470, ext. 215.
Springfield Weather Forecast, TN